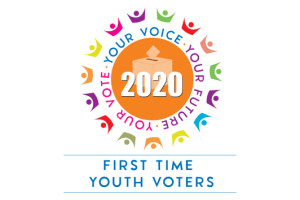 First Time Youth Voters Program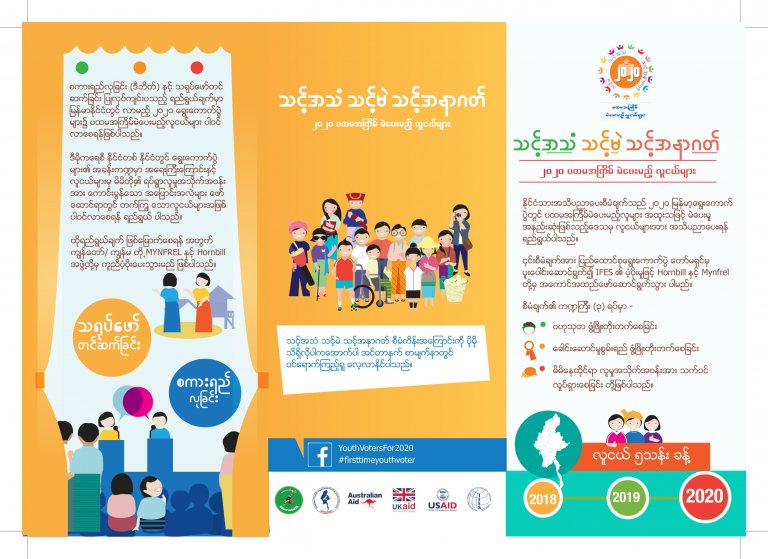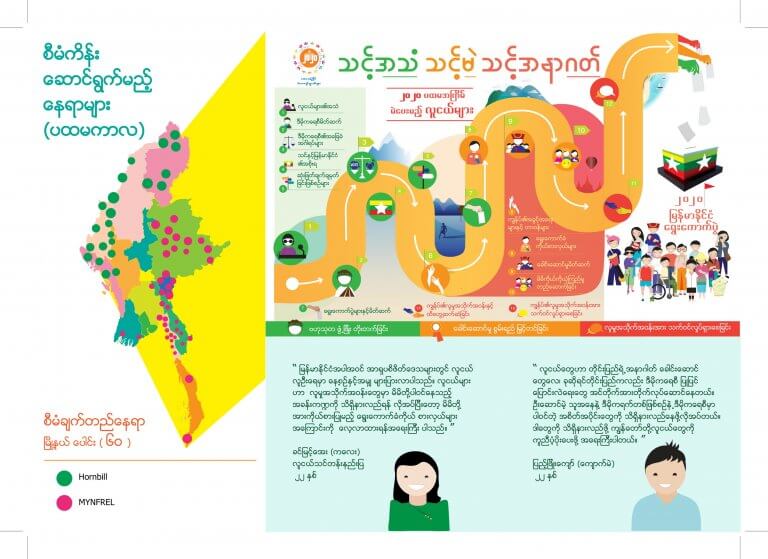 First Time Youth Voters for 2020: Your Voice, Your Vote, Your Future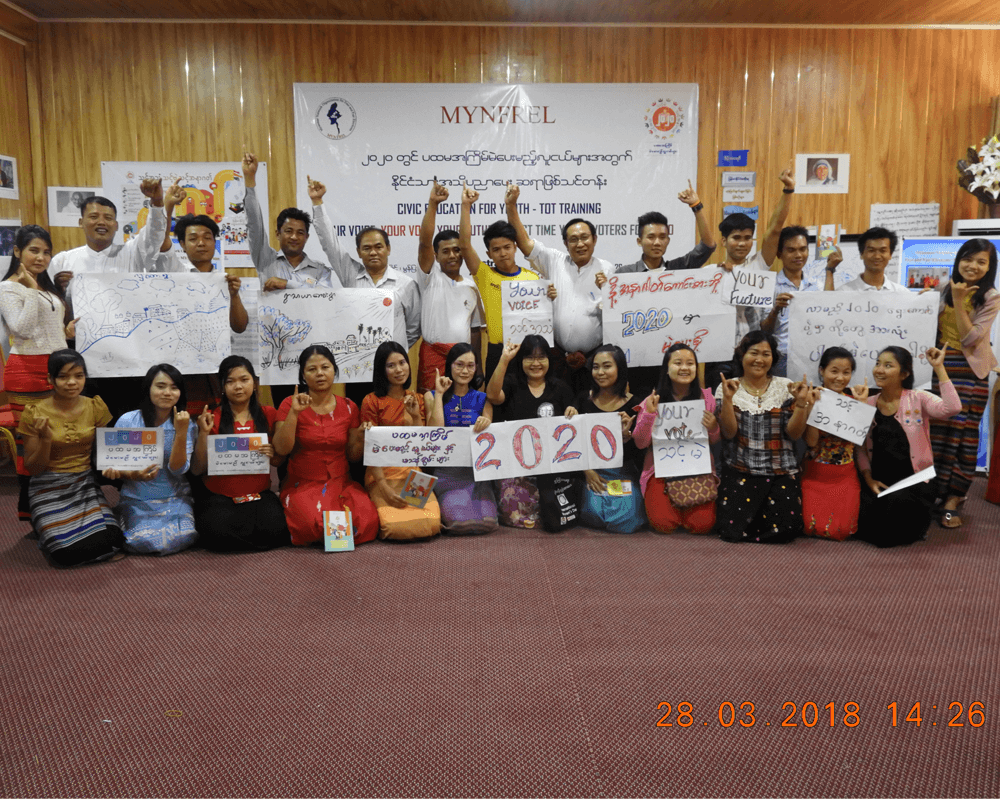 Group Photo after Training for Trainer (ToT) for First Time Youth Voters-2020 in Mawlamyine, Mon State
First Time Youth Voters for 2020 project is ongoing project that implements nationwide in Myanmar by MYNFREL and Hornbill organizations by coordination with the Union Election Commission (UEC) funded by the International Foundation for Electoral Systems (IFES).
Project's Main Objective: The young citizens will understand more about civic and democratic practices and they will engage and participate in the democratic process. The active young voters and first time voters will realize the values of their ballots and actively participate in voting to select their representative in 2020 general election and future elections.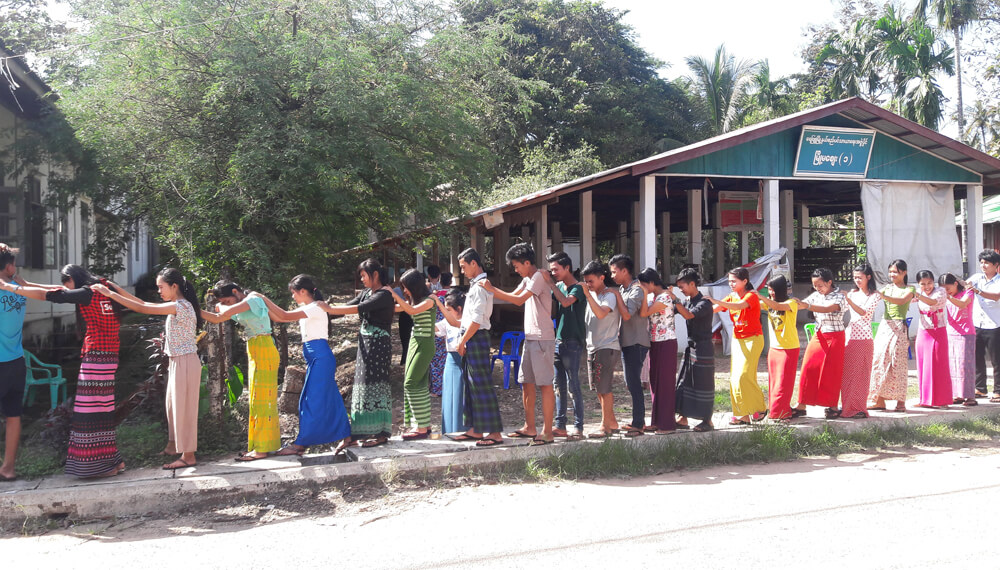 Playing a Game of Leadership Module in Ye Byu, Thanintharyee Region
There will be about 5 million first time youth voters in 2020 according to the 2014 census of Myanmar. The aim of the project is that, by the end of the project, the young citizens have understood civic values and democratic practices and they will participate in building a better democratic country. For achieving this, MYNFREL mobilized a network of local CSOs and we used a cascading strategy. Two TOT trainings (5 days) were organized in TAUNGGYI and MAWLAMYINE cities for 30 trainees (15 participants per TOT training) sent by the local CSOs. After training, we supported them to do cascading training in 48 targeted townships.
Our target population is first time young voters for 2020 (15-25 ages) with 50% young women participation from 48 townships of 4 States and 3 Regions.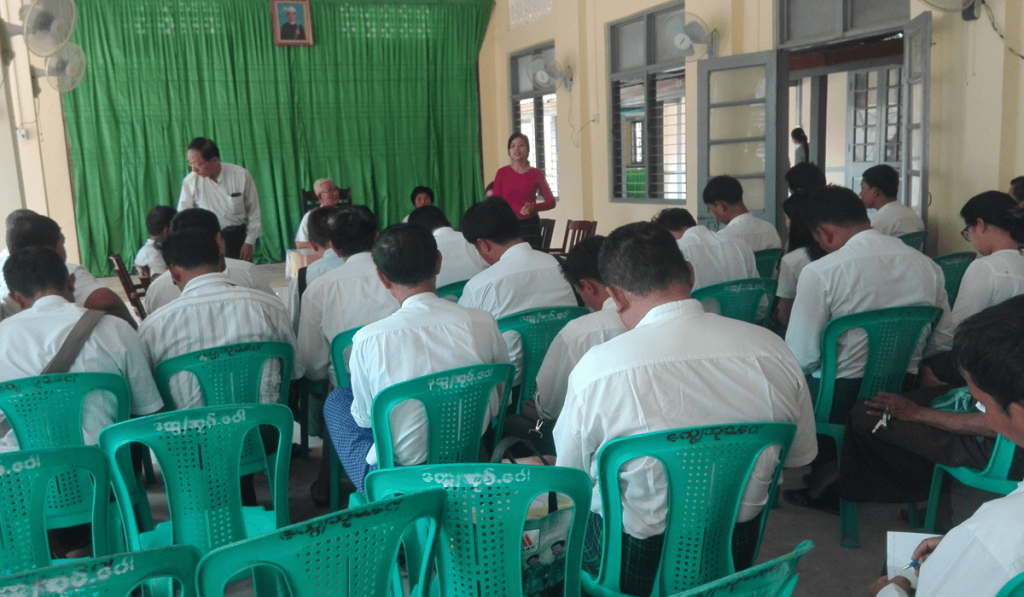 A Coordination Meeting with Township, Village/Ward Administrators & Sub-Election Commission in Waw, Bago Region
As training preparation, MYNFREL takes coordination meetings with respective sub-election commission, general administration department (GAD) and head of township education administration to promote participation of stakeholders in the process before training through the acknowledgement letter of the Union Election Commission (UEC).
During the outreach trainings with 30 participants in each, MYNFREL conducts two full days training and they have to play a "Street Theater" on "Your Voice, Your Vote, Your Future" and Accountable Representative and Irresponsible Representative. The street theaters are performed mostly to the high school students since they are potential first time youth voters at particular basic education high school.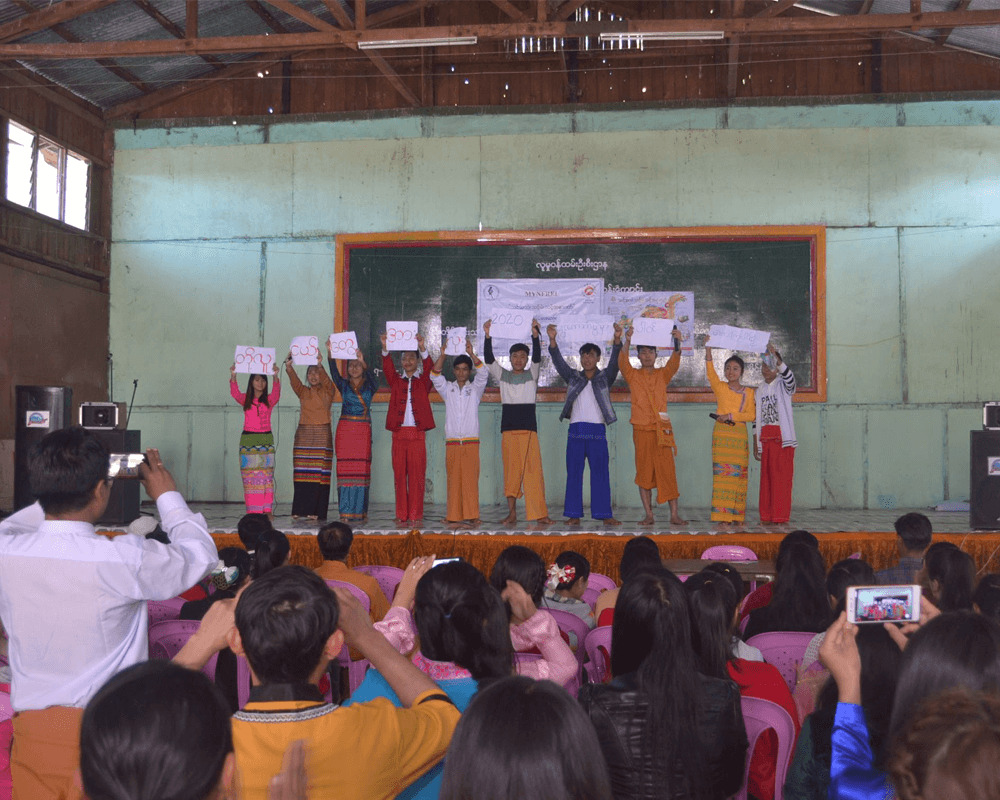 Performing a Street Theater in Mongkeng, Southern Shan State
1,440 young citizens w have been reached out. After training, the alumnus performed "Street Theater" assignment themselves to their community about 7,200 people.
Project Target Audience
The project targets the young ethnic citizens around the country. The project covers 100% of ethnic minority with 50% of women participation in gender perspective.